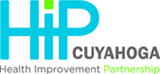 Better Health's committed leadership within
Health Improvement Partnership - Cuyahoga
(HIP-C) brings the assets of its programs, provider network and data to the regional effort to achieve population-level improvement in chronic disease, where disparities are well documented.
As an anchor organization for HIP-C, Better Health assumes leadership for strategic direction; building consensus; managing data, communications and community outreach; and other activities to reduce the impact of cardiovascular conditions, with particular attention to blood pressure control among vulnerable populations.
HIP-C's strategic priority for improving management of chronic disease aligns directly with Better Health's current work, as well as our strategic goal for creating an accountable community for health.
Better Health uses clinical data to measure, publicly report and improve care and outcomes of patients with chronic disease. With a focus on meaningful use of electronic health records and team-based care coordination for patients with chronic diseases in primary care practices, we can identify patients in greatest need of coordinated care – just as we have identified and spread best practices of health care providers whose interventions have brought outstanding achievement and improvement on quality standards.
Our expertise in measurement and chronic disease management activities will help guide development and dissemination of culturally and linguistically appropriate educational campaigns, direct interventions and population-level approaches to better management of coronary artery disease and for those at risk of developing it.
Better Health's capabilities and commitment to identify disparities across multiple dimensions also will come into play. We are addressing disparities in African Americans' good control of high blood pressure compared to Whites' with a program that is helping selected practices adopt an intervention with proven success in achieving good high blood pressure control across race and other subgroups.