Parenting at Mealtime and Playtime
Building Healthy Habits, Birth – 5 years
A collaborative of the Ohio chapter of the American Academy of Pediatrics
February 23, 2018 | 12:15 p.m. to 1:00 p.m.
---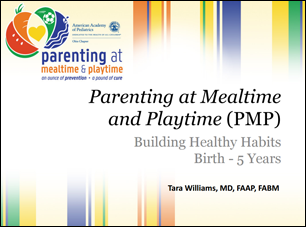 Parenting at Mealtime and Playtime (PMP)
targets children ages birth -- 5 to increase parental awareness of meal and playtime milestones to foster a positive meal and play environment; improve clinicians' evaluation and documentation of obesity-related health risks and promote developmentally appropriate activity and diet behaviors in families.
Goals for implementation in primary care include improved anticipatory guidance counseling and risk assessment at birth to age 5 well-child checks and empowering providers to build a foundation for healthy nutrition and activity and support obesity management.
Tara Williams, MD, FAAP, FABM

Cleveland Clinic Children's Hospital

Dr. Tara S. Williams is a general academic pediatrician. She obtained her undergraduate degree in Chemistry from Carnegie Mellon University in Pittsburgh, PA, and completed her medical degree at the University of Pittsburgh. She moved to the Cleveland area for pediatric residency training at MetroHealth Medical Center, later serving as Associate Pediatric Program Director. Dr. Williams became a site co-investigator for the AAP's Breastfeeding Promotion in Physician's Office Practices (BPPOP), and has been active in teaching breastfeeding medicine to medical students, family practice and pediatric residents for over 10 years. She currently is on staff at Cleveland Clinic, and chairs her department's Breastfeeding Clinical Effectiveness team where she plays a major role in training and development of breastfeeding champions across pediatric offices.